Let us take the worry out of finding the perfect gift. These exclusive Geaux Boxes are made for various occasions. Surprise a loved one, a friend, a corporate colleague, or yourself with a special gift from Louisiana. All boxes are shipped within 3 days of ordering, so last minute gift giving is worry free.



Kid's Christmas Box $40
Food, family and fun; the basic hallmarks of a Louisiana Christmas. While designing this box we at Louisiana to Geaux waded back into our memories and chose items that took us back to those special times as kids. This creative box is composed of Louisiana classics such as the beloved Cajun Night Before Christmas (which is also a coloring book for kids) to the Tiger Snot gel soap. Yes, the multicolored crawfish are actual crayons that can be used to color the scenes in the book! This box is a wonderful way to send some of the magic of a Louisiana Christmas to a cherished young boy or girl.



Christmas Box $40
Christmas will soon be upon us. Celebrate the holiday season with this wonderful box filled with savory products from Louisiana. From the delicious cheese dip mix to the hand-painted Christmas ornament, this box will bring back wonderful memories of past gatherings. Light the sumptuous candle, sit back and enjoy the homemade treats. With this box you can send the tastes, smells and feeling of a Louisiana Christmas anywhere.




Chef Celeste Box $40
Chef Celeste, a Detroit native, fell in love with Louisiana by way of watching Justin Wilson on public television! The wildly popular PBS cooking series also motivated Celeste to become a Chef. She received her formal culinary training Hawaii and the fusion of Cajun and Pan Asian cuisine is something special. She is also a fan of "farm-to-table" cooking whereby the freshest ingredients are used to prepare dishes. Chef Celeste has cooked for Pentagon staff as well as numerous celebrities in her career. Client's raving desire for her food led this talented chef to create her own honey mustard line and proprietary seasoning blends. Chef Celeste now resides in Baton Rouge and we are proud to feature her products in our box.


Taste of Acadiana $40

Directly from the heart of Cajun Country comes the taste of Acadiana Box! The Cajun people pride themselves on good times, good food and treating everyone like family. This wonderful box features products that illustrate the Cajun love of life and the warm and welcoming philosophy of the Cajun lifestyle. For those who lived there and have moved or for those who want to experience for the first time the hospitality of these warm and generous people, this box is a treasure.



Summertime Box $40

Summer is here! Schools is out and it's time to get outside and enjoy sun and fun. We designed the Summertime Box to help you do just that. Cookouts and Bar-b-que is a much a part of summer as baseball and cutting grass. Take the wonderful products in this box and elevate your next grilling party to another level.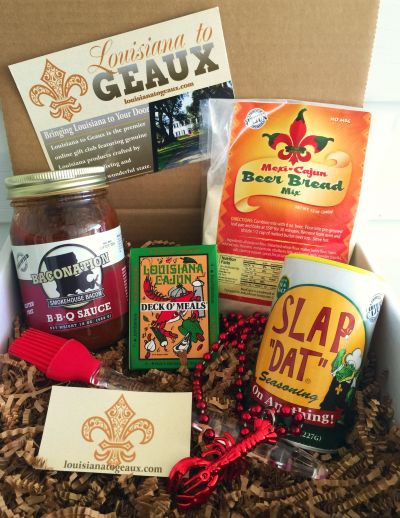 Taste of Baton Rouge $40

For those of you who hold fond memories of Baton Rouge or for anyone who may be new to the city, this box is a perfect gift. The Taste of Baton Rouge box features only items made by Baton Rouge artisans. Whether it's a Saturday night under the lights of a football stadium or a beautiful afternoon listening to music, this box will remind you why you fell in love with the city. For someone new to Baton Rouge this gift box is the perfect introduction to the varied cultures that make up the capital of Louisiana.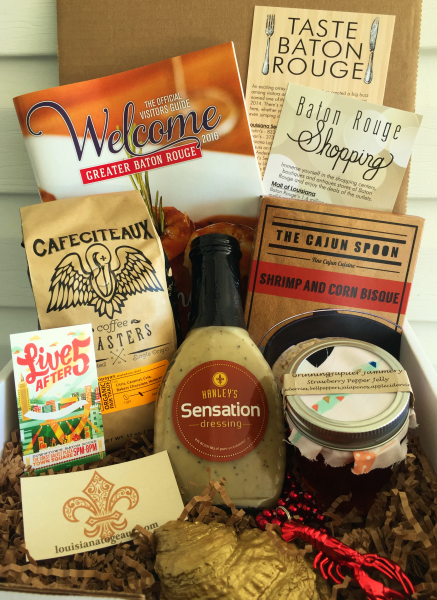 Magnolia Box $40

Let the Magnolia Box take you on a sumptuous journey into a Louisiana fall evening. Handcrafted salts, scents and soaps created by some of the most talented artisans in the state will fill your senses with heavenly aromas. No matter what kind of day you had, let the contents of the Magnolia Box cap it off with a relaxing time that lets you unwind and wash away the cares of the day.